Assisting Families to Develop Young Men and Women
Our Student Ministry exists to assist families in developing their young men and women into functional members of the local body of Christ and society.

Our goal is to equip young believers with the biblical knowledge and experience they will need in order to fulfill that goal. Our prayer is that every student will leave differently than when they arrived: more knowledgeable, better equipped, and filled with confidence in the Word of God and in sharing the gospel with the world around them.
Weekly Activities
Sunday Mornings
9:30am in Room 250, grades 7-12 meet for a time of teaching, prayer, and discussion.

Wednesday Nights - Disciple Night*
*See Summer Schedule below for variations
Students grades 7-12 meet on Wednesdays nights from 6:00-8:00 PM in Room 250 for a time of games, discipleship, and small groups. We are currently going through a series called "DNA, Who Are We?", it's an in-depth study of our church's core values and what they mean to students.
Disciple Night Schedule
6:00 - Fellowship
6:15 - Big Group Game
6:25 - Worship Band
6:35 - Message
7:00 - Small Groups
7:45 - Fellowship
8:00 - Dismiss
Summer Schedule
Wednesday events begin at 6:00 PM in Room 250 except for Graduation Banquet, Bowling, Whataburger, and Commission.
Pastor Justin Daniel -
Upcoming Events
"Commission" Student Retreat 2023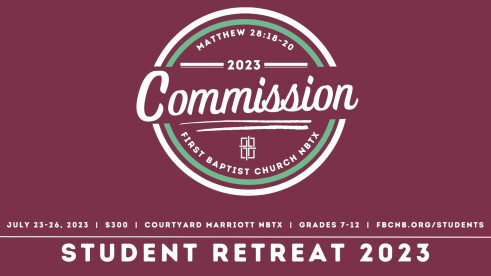 July 23-26, 2023
Grades 7 -12 (entering 7th in Sept 2023 - May 2023 graduates)
$300 per student (scholarships available)
Staying at the Courtyard by Marriott New Braunfels River Village, 750 N Interstate 35 Frontage Rd, New Braunfels, TX 78130
Attention all students! Are you ready to take your faith to the next level? Do you want to learn what it truly means to be a disciple of Jesus Christ? If so, then we have an exciting opportunity for you! Join us for our Student Retreat, Commission, coming up July 23-26. During this transformative weekend, we'll be exploring Matthew 28:18-20 and discussing how we, as students and Christians, have been "commissioned" to spread the Gospel in all areas of life. But that's not all! Along with thought-provoking discussions and engaging teachings, we'll also be enjoying fun activities, delicious food, and plenty of opportunities to connect with other students in our community. You won't want to miss out on this amazing experience! So what are you waiting for? Sign up for Commission today, and get ready to grow in your faith and understanding of what it truly means to be a disciple. We can't wait to see you there!
Resources
Student Pastor: Justin Daniel
Facebook: https://www.facebook.com/fbcnbstudents
Instagram: https://www.instagram.com/fbcnbstudents/