Assisting Families to Develop Young Men and Women
Our Student Ministry exists to assist families in developing their young men and women into functional members of the local body of Christ and society.

Our goal is to equip young believers with the biblical knowledge and experience they will need in order to fulfill that goal. Our prayer is that every student will leave differently than when they arrived: more knowledgeable, better equipped, and filled with confidence in the Word of God and in sharing the gospel with the world around them.
Weekly Activities
Sunday Mornings
9:30* AM in Room 250, grades 7-12 meet for a time of teaching, prayer, and discussion.

*DEC 24 & 31 - No Small Groups. 11:00 AM Worship Service only. Families together in Sanctuary. (Also, Christmas Eve Candlelight Services at 3:00 & 5:00 PM)

Wednesday Nights - Disciple Night

Students grades 7-12 meet on Wednesdays nights from 6:00-8:00 PM in Room 250 for a time of games, discipleship in Biblical truth and worldview, and small groups. The third Wednesday of every month Sept-Dec will be "Ignite Night," an evangelistic service where we will examine different aspects of the Gospel message. Ignite Night will follow a similar structure to Disciple Night. December 13th will be Disciple Night: The Christmas Edition!
Holiday Schedule
Christmas Break: DEC 20 & 27*
DEC 13: Disciple Night - The Christmas Edition
*DEC 27: Ice Skating & Hot Cocoa
Disciple Night Schedule
6:00 - Fellowship
6:15 - Big Group Game
6:25 - Worship Band
6:35 - Message
7:00 - Small Groups
7:45 - Fellowship
8:00 - Dismiss
Upcoming Events
DEC 13 - Disciple Night Christmas Edition
DEC 27 - Ice Skating & Hot Cocoa
Fall Schedule
Wednesday events begin at 6:00 PM in Room 250.
Pastor Justin Daniel -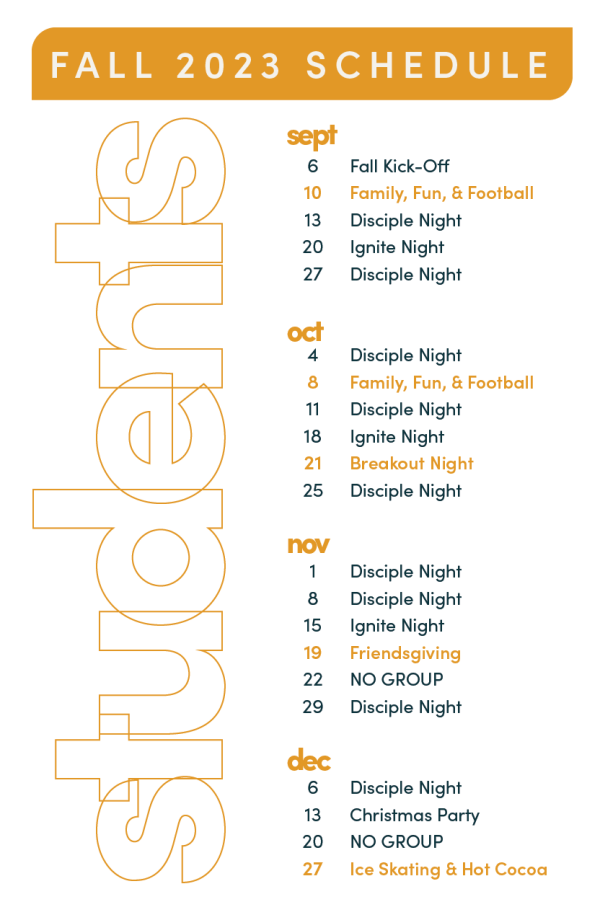 Resources
Student Pastor: Justin Daniel
Facebook: https://www.facebook.com/fbcnbstudents
Instagram: https://www.instagram.com/fbcnbstudents/