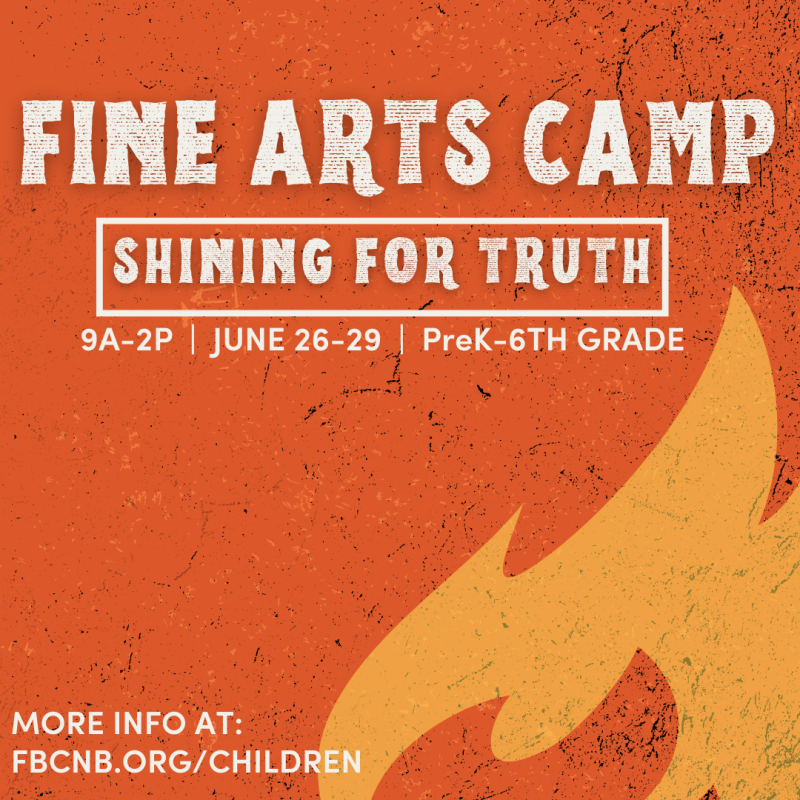 Monday, June 26, 2023, 9am - Thursday, June 29, 2023, 2pm
Fine Arts Camp "Shining For Truth"
REGISTRATION HAS CLOSED, please contact Pastor Doug for any questions: dougd@fbcnb.org

Our first-ever, Fine Arts Camp "Shining For Truth" is for PreK-6th graders looking for a week of creativity & learning about the shining light of God's truth. Each camper will get to focus on two artistic pursuits.
PreK Class
Arts, Crafts, & Music
K-6th Grade Classes*
Choral
Musical Theatre
Instruments (guitar, recorder, piano)
Dance
Acting
Puppetry
Visual Arts
Photography
Tech/AV (3-6th grade only).
Schedule
Monday-Wednesday
9a-2p: Camp Classes
Bring your own lunch

Thursday
9a-2p: Camp Dress Rehearsal/Set Up day
Pizza lunch provided
6p: Camp Showcase (doors open at 5:15p)
Cookies & coffee after the show
*Each camper will choose their top three classes when they register.
Campers will be notified which two classes they were selected for, prior to camp starting.